Ware Airport
Mass. Airports, Landing Strips
Want to track a flight? Visit our Flight Tracking section to easily track your next flight. To feature your Berkshire region airport or airline service, please contact us. Learn more about advertising in MALiving.com.
Ware, Massachusetts Airport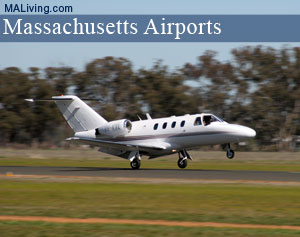 Ware Airport
265 Church St.
Ware, Ma 01082
Ph: 413-733-6948
Location
FAA Identifier: MA53
Lat/Long: 42-16-55.3310N / 072-12-53.2860W
42-16.922183N / 072-12.888100W
42.2820364 / -72.2148017
Elevation: 483 ft. / 147.2 m (surveyed)
Variation: 15W (1985)
From city: 2 miles NE of WARE, MA
Time zone: UTC -5 (UTC -4 during Daylight Savings Time)
Zip code: 01082
Airport Operations
Airport use: Private use. Permission required prior to landing
Activation date: 10/1947
Sectional chart: NEW YORK
Control tower: no
ARTCC: BOSTON CENTER
SS: BRIDGEPORT FLIGHT SERVICE STATION
Attendance: UNATNDD
Wind indicator: yes
Segmented circle: no
Airport Communications
WX ASOS at ORH (15 nm E): PHONE 508-795-7546
WX ASOS at ORE (18 nm N): 135.675 (978-544-6774)
Runway Information
Runway N/S
Dimensions: 2030 x 150 ft. / 619 x 46 m
Surface: turf
RUNWAY N RUNWAY S
Traffic pattern: left left
Airport Operational Statistics
Aircraft operations: avg 76/day *
53% transient general aviation
38% local general aviation
9% air taxi
<1% military
Lenox, Northampton, Amherst, Holyoke, Springfield, Pittsfield, Stockbridge, Lee, Adams

Worcester, Brookfield, Fitchburg, Leominster, Southbridge, Sturbridge

Lawrence, Lowell, Salem, Beverly, Gloucester, Marblehead

Boston, Cambridge, Chelsea, Somerville

Brockton, Duxbury, Fall River, New Bedford, Taunton, Plymouth

Falmouth, Barnstable, Hyannis, Nantucket, Marthas Vineyard, Provincetown
Inns | Hotels | Resorts | Vacation Rentals | Real Estate | Events | Classifieds
Dining | Attractions | Business | History | Weather | Beaches
Fishing | Golfing | Photos | Art Galleries | Massachusetts Shopping
New England Airports
Search MA Living


Ware Airport is a small, privately owned airport located in Ware, Massachusetts. Contact details are included below for more information. MA Living suggests you call to confirm the information before scheduling your flight.