Central MA Family Attractions
Massachusetts Attractions – Central MA Region Attractions
You will never fall short of something exciting to do while visiting Central Massachusetts. This New England region offers a wide range of attractions that the whole family will enjoy. Southwicks Zoo in Mendon, MA is a favorite place to visit among locals and tourists. Old Sturbridge Village is a must for those who enjoy learning about early New England living. The Eco-Tarium in Worcester is another popular tourist destination. It is an indoor/outdoor museum with a planetarium and many hands on exhibits. Browse the list below to view MALiving's recommended Central MA attractions.

Contact us to feature your Massachusetts attraction in MALiving – Massachusetts Internet Magazine. Learn more about advertising in MALiving.com.

Central Massachusetts Attractions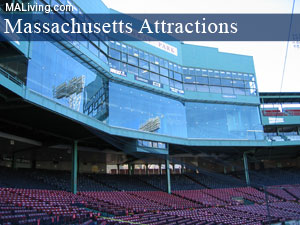 Breezy Picnic Grounds Water Slides
520 N.W. Main St.
Douglas, MA
Ph: 508-476-2664
This water slide park has 300 ft. water slides, a picnic area, 500 ft. of sandy beach alongside of Whitins Reservoir.
Davis Farmland & Mega Maze
145 Redstone Hill Rd.
Sterling, MA 01564
Ph: 978-422-6666
The maze is shaped in the form of Celtic dragons. There are 3 miles of paths, you must use problem and puzzle solving skills to find your way through.
Old Sturbridge Village
1 Old Sturbridge Village Rd.
Sturbridge, MA 01518
Ph: 508-347-3362
Old Sturbridge Village is a living museum which re-creates life in rural New England during the 1790s through 1830s.
Southwick's Zoo
2 Southwick St.
Mendon, MA
Ph: 508-883-8515
A zoo with over 500 different species of wildlife.
Tower Hill Botanic Garden
11 French Dr.
Boylston, MA
Ph: 508-869-6111
Tower Hill Botanical Garden is a 132 acre botanical garden with magnificent views of Mount Wachusett and the Wachusett Reservoir.
EcoTarium
222 Harrington Way
Worcester, MA
Ph: 508-929-2700
The EcoTarium is an indoor outdoor museum that has wildlife exhibits and a digital planetarium.
Fitchburg Art Museum
185 Elm St.
Fitchburg, MA
Ph: 978-345-4207
Fourteen galleries play host to a diverse collection of American and European paintings, prints, drawings, ceramics and decorative arts.
Higgins Armory Museum
100 Barber Ave.
Worcester, MA 01606
Ph: 508-853-6015
Offers the history of armor and how it was made and used.

Warning: include(/var/www/vhosts/maliving.com/httpdocs/mass/includes/regions/central.php): failed to open stream: No such file or directory in /home/maliving/public_html/wp-content/plugins/include-me/plugin.php on line 25

Warning: include(): Failed opening '/var/www/vhosts/maliving.com/httpdocs/mass/includes/regions/central.php' for inclusion (include_path='.:/usr/lib/php:/usr/local/lib/php') in /home/maliving/public_html/wp-content/plugins/include-me/plugin.php on line 25

Lenox, Northampton, Amherst, Holyoke, Springfield, Pittsfield, Stockbridge, Lee, Adams

Worcester, Brookfield, Fitchburg, Leominster, Southbridge, Sturbridge

Lawrence, Lowell, Salem, Beverly, Gloucester, Marblehead

Boston, Cambridge, Chelsea, Somerville

Brockton, Duxbury, Fall River, New Bedford, Taunton, Plymouth

Falmouth, Barnstable, Hyannis, Nantucket, Marthas Vineyard, Provincetown

Warning: include(/var/www/vhosts/maliving.com/httpdocs/mass/includes/middle.php): failed to open stream: No such file or directory in /home/maliving/public_html/wp-content/plugins/include-me/plugin.php on line 25

Warning: include(): Failed opening '/var/www/vhosts/maliving.com/httpdocs/mass/includes/middle.php' for inclusion (include_path='.:/usr/lib/php:/usr/local/lib/php') in /home/maliving/public_html/wp-content/plugins/include-me/plugin.php on line 25


Warning: include(/var/www/vhosts/maliving.com/httpdocs/mass/includes/footer1.php): failed to open stream: No such file or directory in /home/maliving/public_html/wp-content/plugins/include-me/plugin.php on line 25

Warning: include(): Failed opening '/var/www/vhosts/maliving.com/httpdocs/mass/includes/footer1.php' for inclusion (include_path='.:/usr/lib/php:/usr/local/lib/php') in /home/maliving/public_html/wp-content/plugins/include-me/plugin.php on line 25