Central Massachusetts
Fitchburg, Gardner, Leominster, Southbridge, Worcester County Mass.
Central Massachusetts includes Worcester County. Located in the heart of New England, this area of Massachusetts offers a great mix of both countryside and cities. The cities of Worcester, Leominster and Southbridge all offer cultural experiences unique to the region. Click on a town to find out more.

For general inquiries, please contact us. Learn more about advertising in MALiving.com.

---

Worcester County Mass.

Population: 750,963
County Seat: Worcester

Cities - Fitchburg, Gardner, Leominster, Southbridge, Worcester

Towns – Ashburnham, Athol, Auburn, Barre, Berlin, Blackstone, Bolton, Boylston, Brookfield, Charlton, Clinton, Douglas, Dudley, East Brookfield, Grafton, Hardwick, Harvard, Holden, Hopedale, Hubbardston, Lancaster, Leicester, Lunenburg, Mendon, Milford, Millbury, Millville, New Braintree, North Brookfield, Northborough, Northbridge, Oakham, Oxford, Paxton, Petersham, Phillipston, Princeton, Royalston, Rutland, Shrewsbury, Southborough, Spencer, Sterling, Sturbridge, Sutton, Templeton, Upton, Uxbridge, Warren, Webster, Westborough, West Boylston, West Brookfield, Westminster, Winchendon

Villages – Baldwinville, Chapinville, Cherry Valley, Cordaville, East Douglas, East Millbury, East Princeton, Famumsville, Fisherville, Fiskdale, Gilbertville, Ironstone, Jefferson, Leicester Center, Linwood, Manchaug, Morningdale, North Grafton, North Uxbridge, Oakdale, Old Furnace, Otter River, Pitcherville, Rochdale, Rockdale, Saundersville, South Ashburnham, South Lancaster, Spindleville, Stoneville, West Sutton, West Upton, Whalom, Wheelockville, Wheelwright, Whitinsville

---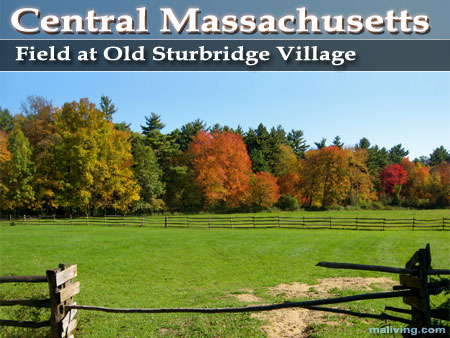 Lenox, Northampton, Amherst, Holyoke, Springfield, Pittsfield, Stockbridge, Lee, Adams

Worcester, Brookfield, Fitchburg, Leominster, Southbridge, Sturbridge

Lawrence, Lowell, Salem, Beverly, Gloucester, Marblehead

Boston, Cambridge, Chelsea, Somerville

Brockton, Duxbury, Fall River, New Bedford, Taunton, Plymouth

Falmouth, Barnstable, Hyannis, Nantucket, Marthas Vineyard, Provincetown
CLICK HERE TO REGISTER



Stay up-to-date on Massachusetts
WIN FREE PRIZES
Inns | Hotels | Resorts | Vacation Rentals | Real Estate | Events | Classifieds
Dining | Attractions | Business | History | Weather | Beaches
Fishing | Golfing | Photos | Art Galleries | Massachusetts Shopping
New England Towns and Cities
Vermont | Maine | New Hampshire | Connecticut | Rhode Island
New England Living Magazine