Boston Massachusetts Lighthouses
Grave's Light, Boston Light, Long Island Head Light

Come discover the history behind the Boston Harbor lighthouses. These lighthouses are placed on some of the most beautiful settings – near beaches, on rock bluffs, or just surrounded by beautiful ocean views. Some lighthouses are not open to the public, so make sure to research which lighthouses you plan to visit beforehand. Although some lighthouses are closed, their beauty can still be enjoyed from a distance.

Let us know about your favorite Boston Massachusetts Lighthouse by contacting us. Learn more about advertising in MALiving.com.

Boston Massachusetts Lighthouses

Grave's Light
Winthrop: located at the entrance to Broad Sound Channel and at the outer edge of Boston Harbor, the lighthouse was built in 1905.
Boston Light
Boston: On Little Brewster Island in the outer section of Boston Harbor this lighthouse was built in 1783. Made out of stone with brick lining the tower sits at 89 feet tall.
Long Island Head Light
Boston: located on Long Island in Boston Harbor this lighthouse is not open to the public and is best seen by boat. Built in 1901 the stucture is 52 feet tall and made from brick.
Did we miss something?
Add your update or comment.
Lawrence, Lowell, Salem, Beverly, Gloucester, Marblehead

Boston, Cambridge, Chelsea, Somerville

Brockton, Duxbury, Fall River, New Bedford, Taunton, Plymouth

Falmouth, Barnstable, Hyannis, Nantucket, Marthas Vineyard, Provincetown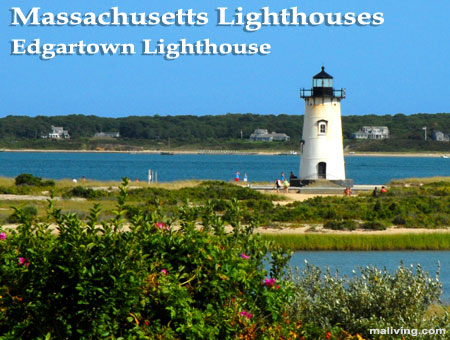 Inns | Hotels | Resorts | Vacation Rentals | Real Estate | Events | Classifieds
Dining | Attractions | Business | History | Weather | Beaches
Fishing | Golfing | Photos | Art Galleries | Massachusetts Shopping
Search MA Living