Massachusetts Covered Bridges
Sturbridge, Conway, Greenfield, Sheffield, Westfield Mass. Historic Covered Bridges

New England is known worldwide for its many historic covered bridges, and the state of Massachusetts is no exception. Some folks refer to these bridges as "Kissing Bridges". The picturesque Massachusetts covered bridge is more than just attractive to look at, covered bridges are also practical. They provide a great place to find cover from the hot sun, to hide out from the rain, or to look down into the water passing below. Old bridges were usually constructed out of wood, as it was the most readily available resource. Due to inclement weather these old wooden bridges often deteriorated after only 9 years. Covering them extended their life to easily 80 + years. Many of the most famous Massachusetts covered bridges are found in the Berkshires region.

If you know of a scenic covered bridge that we should include in our listing, please feel free to contact us. Learn more about advertising in MALiving.com.

Massachusetts Covered Bridges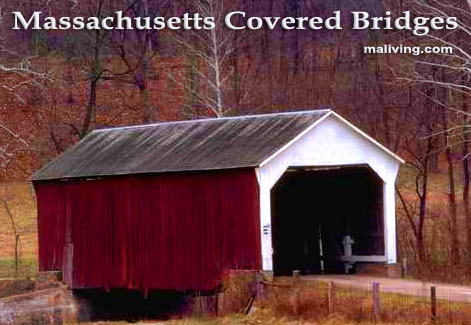 Bissel Bridge Portal
Constructed in 1951
Charlemont
Length: 92Ft.
span: 90 Ft.
Location: Alongside MA 8A about 0.5 miles north of 8A junction with MA2 in Charlemont.
Dummerston Bridge
Constructed in 1874
Sturbridge Village
Length: 55 Ft.
Spans: Mill Pond & Quinebaug River
Location: Old Sturbridge Village
Service Bridge
Constructed in 1937
Sturbridge Village
Length: 68 Ft.
Spans: Quinebaug River
Location: Old Sturbridge Village
Burkeville Bridge
Constructed in 1970
Conway
Length: 106 Ft.
Span: 104 Ft.
Location: Alongside MA 116 On south side of road just west of Conway.
Creamery Bridge Portal
Constructed in 1985
N. Ashford
Length: 40 Ft.
Span: 38 Ft.
Location: On the south side of Creamery Road, south of the village of Ashfield.
Pumping Station Bridge
Constructed in 1972
Greenfield
Length: 95 Ft.
Span: 93 Ft.
Location: Take Conway Street north out of Greenfield off MA2A. Drive 1.5 miles north and take a left immediatedly after crossing a steel and concrete bridge. Proceed 0.8 mile passing the Greenfield Municipal Park on the right. Take a right and in 0.1 miles take another right on Plain Road. Travel 2.9 miles north to the unmarked Eunice Williams Drive. The bridge is 0.2 miles down this road.
Upper Sheffield Bridge
Constructed in 1996
Sheffield
Length: 93 Ft.
Span: 91 Ft.
Location: Take US 7, about 0.8 miles north of Sheffield, then right (east) 0.2 miles to the bridge.
Arthur Smith Bridge
Constructed in 1870
Lyonsville
Length: 99 Ft.
Span: 97 Ft.
Location: 1.2 miles south west of Colrain on MA112, then right 0.1 miles on Lyonsville Road to the bridge. In a farmers field waiting for rehabilitation.
C. Waterous Bridge
Originally built in 1848, rebuilt in 1962
Pepperell
Length: 108 Ft.
Span: Nashua River
Location: Groton Street
Gilbertville Bridge
Constructed in 1886
Hardwick
Length: 137 Ft.
Spans: Ware River
Location: Bridge Street
Sawyer Pond Bridge
Constructed in 1990
Manchester
Length: 43
Location: Across Sawyer pond northeast of Manchester. MA127 east 2.9 miles from jct with Brook St. in Manchester, north on Magnolia Av. 0.4 miles to the bridge.
Begin's Paradise
Constructed in 1998
Methuen
Length: 16 Ft.
Location: Across dry land northeast of Methuen. MA113 east 3.4 miles from jct with MA28 in Methuen, north on MA110 1.8 miles, continue north on Bradley Av. 0.9 miles, west on Lake St. 0.25 miles, continue west on North St. 0.8 miles to the bridge on the N. side of the road.
Goodrich Bridge
Constructed in 1965
Westfield
Length: 40 Ft.
Location: South section of Westfield in Stanley Park over a pond. 2.2 miles southwest of jct I-90 at exit 3 on North Elm Street then right 0.6 mile on Court Street and right again on Western Avenue 0.9 miles to Kensington Avenue, left 0.1 mile to the bridge.
Inns | Hotels | Resorts | Vacation Rentals | Real Estate | Events | Classifieds
Dining | Attractions | Business | History | Weather | Beaches
Fishing | Golfing | Photos | Art Galleries | Massachusetts Shopping
New England Covered Bridges
VT Covered Bridges | NH Covered Bridges |  CT Covered Bridges
Search MA Living