Massachusetts Weddings
MA Wedding Venues Honeymoons & Wedding Ceremonies

Planning a wedding? Massachusetts is an excellent choice for your wedding or honeymoon! Massachusetts is famous for its historic charm, small country towns, and big cities thriving with energy. Your Massachusetts wedding or honeymoon will be a dream come true! Massachusetts offers varied wedding locations such as the Berkshires countryside, the beaches of Cape Cod, or downtown Boston. Massachusetts offers many professional wedding consultants who will assist you in planning your dream wedding or honeymoon. Ask us about planning a Massachusetts Wedding or share comments. To feature your MA wedding business, contact us.
MA Wedding Venues & Honeymoons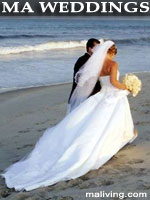 Several Massachusetts
Inns
and
Bed & Breakfast Lodging
are the perfect for your wedding or honeymoon arrangements. Ask the innkeeper about your plans and wishes, and you may find a Massachusetts wedding or honeymoon that fits both your lifestyle and your pocket.
Whether you are planning a small, quiet, country wedding in the Berkshires or a large urban wedding in our capital city of Boston, a Massachusetts Destination Wedding can satisfy your dreams for the perfect wedding.
Inns | Hotels | Resorts | Vacation Rentals | Real Estate | Classifieds
Dining | Attractions | Business | History | Weather | Beaches
Fishing | Golfing | Photos | Art Galleries | Massachusetts Shopping
New England Living Magazine