Russell, Massachusetts 01071
Russell, Mass. Town Travel Business Vacation & Relocation Information
The best way to enjoy the views of Russell, Massachusetts is to take a drive along Route 20. The section of Route 20 that goes through Russell is commonly known as Jacob's Ladder Trail. While taking this drive, sparkling rivers and tall mountains are all that's in sight. Due to the rugged nature of the land, Russell remains very undeveloped. Along with Huntington, Russell has hosted the National White Water Races.

To share any Russell, Mass. information with us, please contact us. Learn more about advertising in MALiving.com.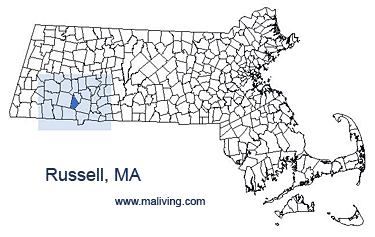 Settled: 1782
Incorporated: 1792
County: Hampden
Russell, MA Population:
2008: 1,719
2000: 1,657
1990: 1,594
The specified file on Include Me shortcode does not exist.
Lenox, Northampton, Amherst, Holyoke, Springfield, Pittsfield, Stockbridge, Lee, Adams

Worcester, Brookfield, Fitchburg, Leominster, Southbridge, Sturbridge

Lawrence, Lowell, Salem, Beverly, Gloucester, Marblehead

Boston, Cambridge, Chelsea, Somerville

Brockton, Duxbury, Fall River, New Bedford, Taunton, Plymouth

Falmouth, Barnstable, Hyannis, Nantucket, Marthas Vineyard, Provincetown
Russell, MA Living Resources

Russell, MA Airports
Russell, MA Art Galleries
Russell, MA Autos
Russell, MA Camping
Russell, MA Golfing
Russell, MA Microreweries
Russell, MA Shopping
Russell, MA Theaters
Russell, MA Antiques
Russell, MA Attorneys
Russell, MA Inns
Russell, MA Classifieds
Russell, MA Hiking
Russell, MA Museums
Russell, MA Skiing
Russell, MA Weather
Russell, MA Apple Orchards
Russell, MA Attractions
Russell, MA Beaches
Russell, MA Dining
Russell, MA Hotels
Russell, MA Radio Stations
Russell, MA State Parks
Inns | Hotels | Resorts | Vacation Rentals | Real Estate | Classifieds
Dining | Attractions | Business | History | Weather | Beaches
Fishing | Golfing | Photos | Art Galleries | Massachusetts Shopping